Profile
Cortina Development Ltd. is one of the largest and most important distributors of natural casings in Eastern Europe. The company was founded in 1992 and since its foundation has focused on the sale of natural casings to meat processing plants and small producers in the Czech Republic. Over time the company has entered new markets in Eastern Europe (Poland, Slovakia, Hungary and Romania). Cortina Development over the course of its existence has built a reputation as suppliers of high quality products and quality service for its customers.
During the time Cortina has extended its assortment of artificial casings for the meatpacking industry - polyamide casings, films, nets, vacuum bags, thermo-shrinkable bags,...
Cortina Development Ltd. became part of the Dutch company Van Hessen since 1999 which is one of the largest producers and suppliers of natural casings in the world.
The company now supplies its customers in the Czech Republic, Slovakia, Poland, Hungary, Romania and Bulgaria. Sales in the Slovakia and Hungary is operated through the subsidiary company Cortina Slovakia s.r.o. Sales in Romania is operated through the subsidiary company Cortina Development S.R.L. and Poland through Cortina Polska.
Thanks to our strict quality control, treatment and processing of natural casings in the new modern premises and developed logistics and distribution channels our company is able to guarantee to its customers that they receive…
...WHAT THEY NEED AND ALSO ON TIME.
Products
Natural Casings
hog casings – dry salted, in salt brine, shirred on soft tube

sheep casings – dry salted, in salt brine, in softner, shirred on hard or soft tube

beef casings – salted
Artificial Casings
multilayer artificial casings; non-permeable

permeable artificial casings

make up – in reels, shirred (from 25 to 100m per stick), cut into pieces with different lenght

printing – UV printing, CMYK, pantone colors; we can prepare design according to your wish

polyethylen casings

fibrous casings

artificial casings for frankfurters; permeable and non-permeable; edible collagen
Meat netting
for packing raw, cooked and smoked products

elastic netting (rubber + polyester, cotton, nylon)

non-elastic netting (polyester, cotton, nylon)

all kinds of sizes, diameters, thickness

all common colors including combination of colors
Other products
textile packaging for steam and cooked meat products; different shapes (beef caps, stomach,...)

textile packaging with spice and herbs blend, in the forms of casings, sheets and rolls

cellophane film
Slaughterhouse products
stomach salted or frozen

fatend

chitterlings

appendix

pancreas
Distribution
Cortina Development ensures flexible and fast delivery thanks to modern transport. Almost all orders are delivered to the end users next working day after the order is placed. Distribution is provided from a central warehouse in Troubsko u Brna which lies in an advantageous location at the highway traffic junction near Brno. It's the logistical crossroad for territories of Central and Eastern Europe. Good transport connection provides optimal conditions for fast and smooth distribution.
Each of our daughter companies has its own sufficient storage capacity.
The location of stores on the local markets are: Slovakia and Hungary-Šaľa, Poland-Piekary Slaskie, Romania-Ilfov. Our daughter companies supply its customers usually next working day after the order is placed.
Sufficient storage capacity and very flexible way of delivery is valued by our regular customers particularly in situations when they need fast delivery due to unexpected orders from their customers.
Experienced sales representatives guarantee perfect service to our clients on each local market.
What's new
Contact
Find us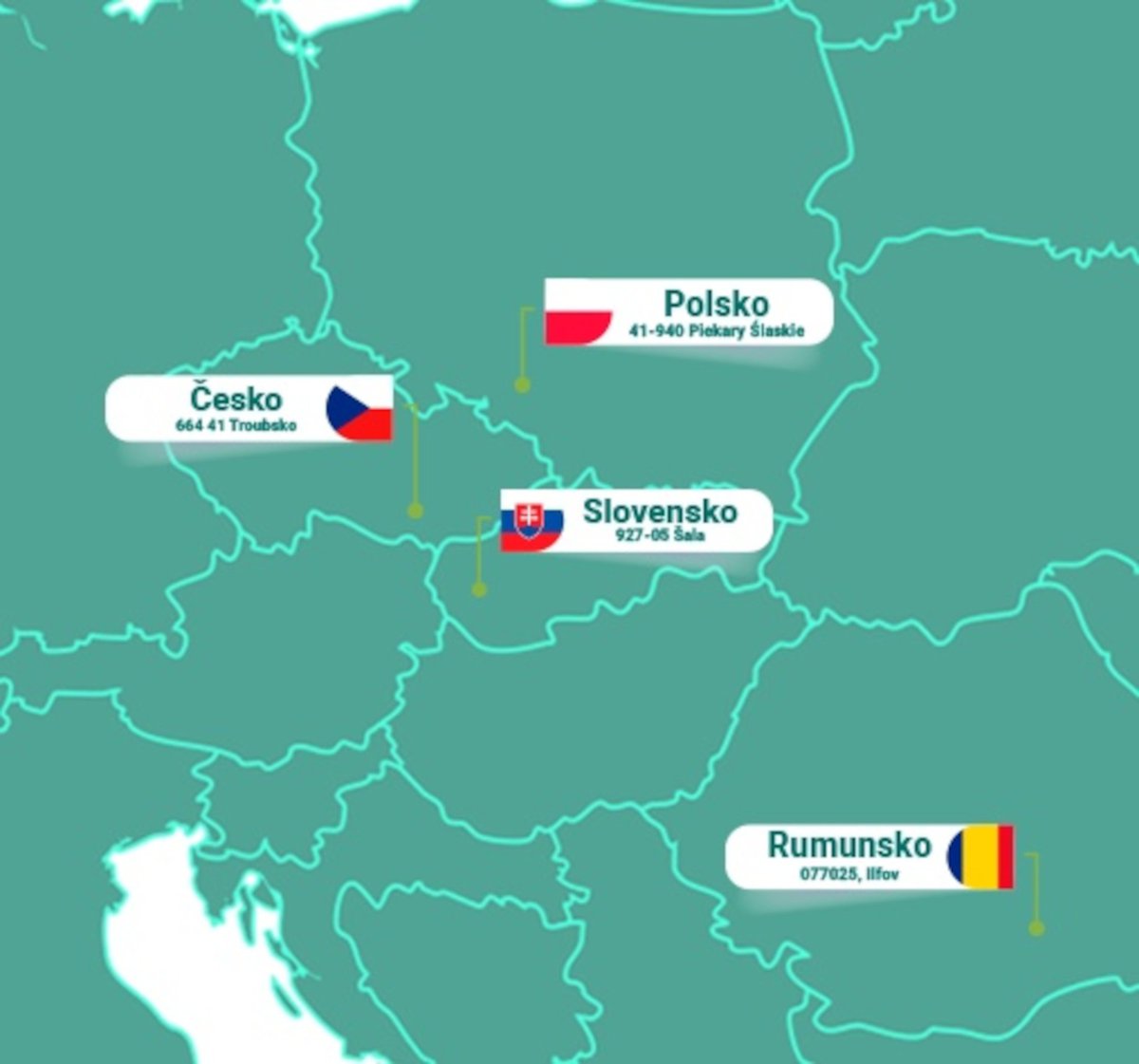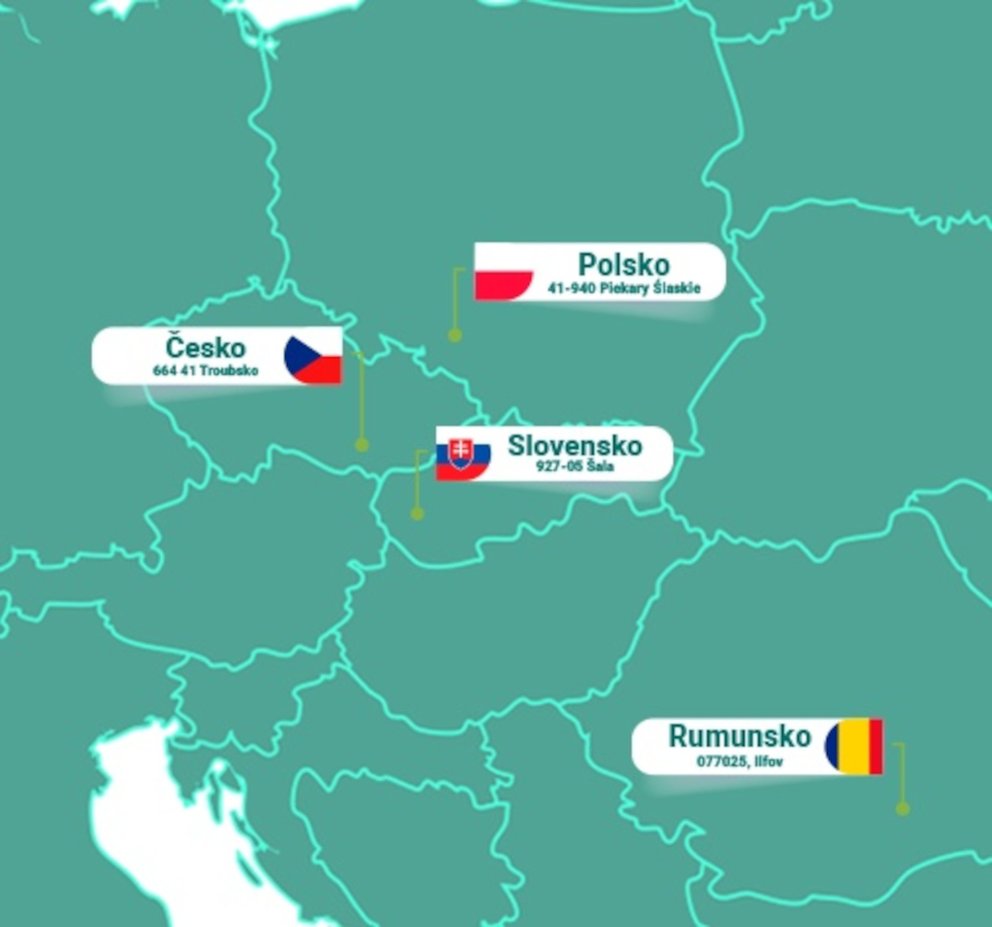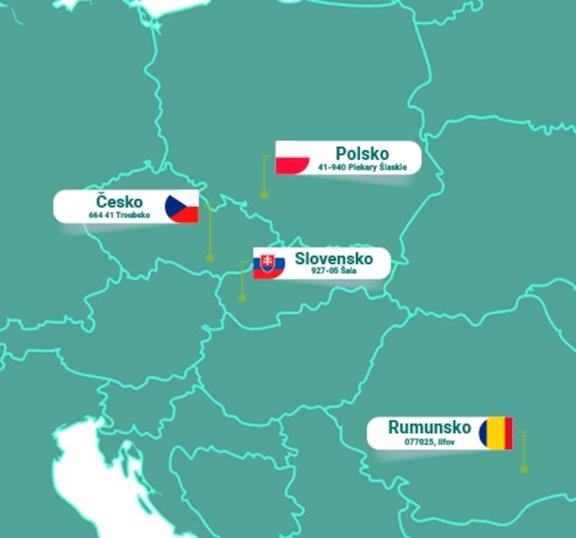 Czech Republic
Cortina Development spol. s r.o.
Jihlavská 2d
664 41 Troubsko
Česká republika
Route plan:
exit motorway D1 at 190, turn to BVV, Grand Prix, Svitavy direction
after 600 m turn right to CENTRUM, BOHUNICE, Grand Prix direction
immediately after turning follow the left side over the bridge Popůvky, Grand Prix
After passing part of the city Bosonohy continue to Popůvky direction
about 1 km behind Bosonohy on the right side there are the new premises of Cortina
Slovakia
Cortina Slovakia s.r.o.
Bernolákova 5162
927 05 Šaľa
Slovensko
Route plan:
around 3 km from centre of Šala is located suburb Veča
in suburb Veča on Pribina square turn right to Bernolákova street
after 250 m on the right side there are the premises of Cortina Slovakia
Poland
Cortina Polska sp. z o.o.
ul. Pod lipami 13
41-940 Piekary Śląskie
Polska
Route plan:
Use exit Bytom, Piekary Ślaskie from highway A1
follow the direction Świerklaniec
approximatly after 2 km from Bytom turn right to Pod lipami street
after 250 m turn right to premises of the company "Mix"
find the store "G"
Romania
Cortina Development S.R.L.
Ferma nr. 5 Adulte, Hala 4, Sala 1
Calea Codrului nr.1
077096 Dragomiresti Deal
Romania
Route plan:
from A1 follow the exit to the Bucharest ring road and turn left on DNCB the Chiajna direction
at the first roundabout follow the first exit and stay on DNCB
at the second roundabout follow the 2nd exit towards Republici street / Dragomiresti road / DJ601A
after about 4km turn left (immediately after the forest) following the road to FM Logistic
after about 800m turn left inside the forests and reach the Cortina company
WE LOOK FORWARD TO SEEING YOU AND WISH YOU A SAFE JOURNEY!